Call Us Now 720-496-0188

Hiring A Garage Door Repair Lafayette CO Company
If ever in need of garage door repair, you are going to want to be sure that you find a good one. Your garage door is an important part of your home and it is very critical to keep it functioning properly not only for your safety but for your security. We have been in business for a long time and we have fixed a lot of garage doors in the process. We truly pride ourselves on our ability to provide excellent customer satisfaction to our customers on a continuous basis. If you are ever in need of garage door repair Lafayette CO, you are going to want to give us a call. Below, we will be going over some of the key services that we offer.
Garage Door Repair Lafayette CO Company Key Services:
1. Garage Door Spring Repair.
The fact is, your springs are most likely to fail in your garage. This is because they take an incredible beating over the course of each year. Think about how many times you open and close your door. Your spring is going to be effectively working each and every time you do so. Because we provide around the clock service, you are going to be able to effectively call on us at any time that you require our services. We will be sure to be there as soon as possible and remedy your situation. Dealing with a broken garage door because of bad springs can be a hassle and a nuisance. Because of this, we will be sure to provide you quick and painless service.
2. Garage Door Opener Replacements and Repairs.
If you are dealing with any kind of garage door opener malfunction that needs repair and/or replacement, feel free to give us a call. We have experienced technicians on hand that have worked with literally every single kind of garage door opener on the market. We will have people on hand ready and willing to fix your garage door openers and/or help you to replace them as soon as possible. It really comes down to experience as it relates to replacing and/or repairing garage door openers. You want to hire someone that has been there and done it. Our technicians have services a ton of different openers on the market and they have the skills and experience to help you select the best possible opener for your garage.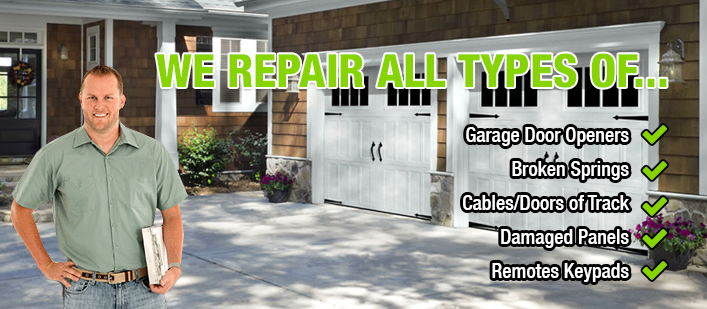 3. Garage Door Off Track.
If your garage door happens to go off track, we will have service technicians ready and willing to get it back on track and also to help provide you with all kinds of tips and tricks to avoid having it happen again.
Having fair prices is something that is very important to us because we know that you work hard for your money and that money doesn't grow on trees. We also realize that we must charge enough money to stay in business, to pay our employees and to keep food on the table. Our goal is to be priced at market value and that is to say that our prices are about average for the area. We think that this benefits the customers by giving them access to above average garage door technicians at a price that they can easily afford.
Contact Us At Your Early Convenience For
AGM Garage Doors
1408 Horizon Ave #125, Lafayette CO 80026
720-496-0188
The Brand We Work With
genie
lift Master
amarr.com
chiohd.com
raynor.com
clopaydoor.com
haasdoor.com
doorlinkmfg.com
4. Garage Door Repair Tips.
While it is always recommended to hire a professional who is experienced in doing various repairs, you might be able to perform some simple garage door repairs at your home. For instance, if your garage door comes off track, you are likely going to be able to perform this kind of repair by yourself or with the help of someone else. If your garage door will not close, first you are going to want to check to make sure nothing is blocking your garage door sensors. A lot of the times something gets stuck or caught in the way and blocks the sensors. It might be so small that you do not even think to move it or notice it.
As you can see, dealing with garage door problems can be a huge nuisance. For this reason, it would be wise to hire an experienced garage door repair Lafayette CO company to do the job for you. Give us a call today if you are experiencing any kind of garage door problems.